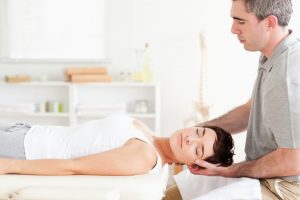 Chiropractor services are used for those interested in getting to the root of your condition using a more natural approach. Our aim is to use a combination of chiropractic techniques to help your body heal itself. The team at Gut Authority wants to see you live a better quality of life!
Restore Body Balance with Chiropractor Service
We take a full-body approach in our chiropractic services. Because each patient is different, your treatment plan will be based on your body's needs. We can take care of a variety of conditions such as:
Headaches and migraines
Lower back pain
Neck pain
Whiplash
Joint pain
Sciatica
Carpal tunnel
Pregnancy
And more!
We use a variety of chiropractic techniques along with nutritional counseling to restore full-body balance.
Our Office Is Located in Daphne
We enjoy getting to help out our community right here in Daphne, Alabama! Our office is located at 9113 Merritt Lane; Daphne, AL 36526. You can find it in the Williamsburg Office Park right off County Road 13.
To get to our office from downtown Daphne, head East on Daphne Road. Once you get to County Road 13, hang a right and go about 3 miles. You'll see the red brick building across from the Dollar General where you'll turn left onto Merritt Lane to find parking. Feel free to give us a call if you're having trouble finding us or if you need help!
Call Our Team Today!
Our team here at Gut Authority is eager to see you living a more improved life! We can restore your health by returning your body's balance. If you're ready for a more natural approach to your health then give us a call today to schedule your chiropractor service today.