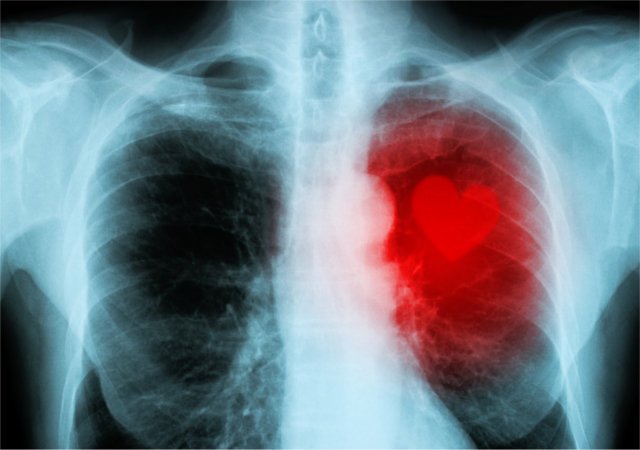 A recent paper published in the Mayo Clinic Proceedings stated celiac disease is associated frequently with iron deficiency anemia, dermatitis herpetiformis, selective IGA deficiency, thyroid disorders, diabetes mellitus, and various connective tissue disorders but is rarely associated with cardiomyopathy heart disease. The paper then goes on to state "we describe a patient with celiac disease associated with cardiomyopathy whose cardiac function improved substantially after treatment with a gluten-free diet. Cardiomyopathy associated with celiac disease is a serious and potentially lethal condition. However, with early diagnosis and treatment with a gluten-free diet, cardiomyopathy in patients with celiac disease may be completely reversible."
In another more recent European study, SRO Arh Celok LEK reported that after common causes of myocarditis had been excluded, probable celiac disease-associated autoimmune myocarditis was diagnosed. The patient was recommended to undergo a strict lifelong gluten-free diet. Low compliance to a gluten-free diet treatment in our patient caused a progressive worsening of the left ventricular ejection function and other serious cardiac symptoms and complications that warranted invasive cardiac interventions. The article went on to conclude that "compliance with a gluten-free diet is mandatory if patients are to avoid progression of cardiomyopathy heart disease. Screening of patients with idiopathic dilated cardiomyopathy for celiac disease is advisable."
And, in an even more recent article, the British Medical Journal reported a case study of a 57-year-old man with iron deficiency anemia (who showed a dilated left ventricle with an injection fraction of 15% and features of cardiac failure out of proportion to his anemia). A subsequent investigation into his iron deficiency anemia revealed a new diagnosis of celiac disease. "After starting a gluten-free diet, his cardiac function improved markedly, with injection fraction reaching 70%, allowing his cardiac medications to be withdrawn. This study suggests a link between celiac disease and cardiomyopathy."
Finally, in a study which may on the surface appear to indicate that a gluten-free diet may not be beneficial, PLos One reported "patients with celiac disease, characterized histologically by villus atrophy (VA) of the small intestine, have an increased risk of ischemic heart disease and atrial fibrillation, risks that persist for years after commencing the gluten-free diet. It is unknown whether villous atrophy on follow-up biopsy rather than mucosal healing affects the risk of ischemic heart disease or atrial fibrillation." The study concluded that "in this population-based study of patients with celiac disease, persistent villus atrophy on follow-up biopsy was not associated with an increased risk of ischemic heart disease or atrial fibrillation. Failed mucosal healing does not influence the risk of these cardiac events."
Study Sources:
1) Mayo Clinic Proc.2005 May;80(5):674-6
2) Srp Arh Celok Lek.2012 Sep-Oct;140(9-10);641-3
3) BJM Case Rep.2016 Mar14;2016pii: ber2015213301.doi:10.1136/bcr-2015-213301
4) PLoS One.2015 Jan30:10(1):e0117529.doi: 10.1371/journal.pone.0117529.eCollection 2015
What is cardiomyopathy?
The simplest definition of cardiomyopathy is that its a disease of the heart muscle that makes it harder for the heart to pump blood to the rest of the body. Cardiomyopathy, commonly referred to as heart disease, can manifest in many different forms. It can include ischemic heart disease, which causes damage to the heart muscle due to lack of proper blood supply, abnormal heart rhythm such as atrial fibrillation, changes in heart chamber size and function, altered heart valve function, angina pectoris or chest pain, and myocardial infarction or heart attack.
What is villous atrophy?
Villous atrophy is a change in the villi which line the small intestine. In celiac disease, this change can be thought of like the shags on Shag carpeting, which change shape and size, and become smaller, where the intestinal wall can now be likened to a Berber carpet. Diagnosis of celiac disease involves biopsy of the small intestinal wall and grading of the extent of this atrophy or change. Studies have shown that on a strict gluten-free diet, this lining or mucosal barrier can heal and the villus atrophy can be reversed as evidenced by subsequent biopsy.
Gluten sensitivity and celiac disease.
Patients with a diagnosis of celiac disease are genetically susceptible individuals who are gluten sensitive and cannot tolerate gluten. Continued exposure to gluten "turns on these genes" and leads to the development of celiac disease. This is characterized by many other conditions, including various anemias, skin disorders, connective tissue disorders, thyroid disorders, and cardiomyopathy. These same autoimmune conditions have been identified in gluten-sensitive individuals who do not have the genetic predisposition for celiac disease but who do show the genetic predisposition for gluten sensitivity.
The benefits of a gluten-free diet
Although gluten is not the only cause of heart disease, the above-referenced studies clearly indicate that there is a correlation between cardiomyopathy and celiac disease. These studies also indicate that a strict gluten-free diet can be a key factor in not only reducing the symptoms of cardiomyopathy heart disease but also in reducing the need for medication to control the symptoms.
While the PLoS One study indicated that the risks of heart disease and atrial fibrillation persisted for years after commencing a gluten-free diet, the study did not indicate the degree of compliance nor did it indicate what was meant by a gluten-free diet. The follow on biopsies that failed to identify mucosal healing may be suggestive that the individuals studied were not truly on a gluten-free diet. In his book, No Grain, No Pain, and on his website the glutenfreesociety.org, Dr. Peter Osborne clearly outlines that gluten is found in all grains and not just wheat barley and rye (and in some cases oats) as is traditionally associated with celiac disease and gluten-free diets.
Conclusions:
1) Individuals and patients who present with a history of cardiomyopathy, ischemic heart disease, irregular heartbeat, as well as other autoimmune conditions such as Irritable Bowel Syndrome, Crohn's disease, Dysbiosis, or other gut-related disorders should be genetically tested for the predisposition to develop celiac disease or gluten sensitivity.
2) Celiac patients have been shown to have an increased risk of iron deficiency anemia. Gluten Sensitivity has been shown to result in decreased vitamin and mineral absorption and can result in other forms of anemia, as well as B- vitamin deficiencies, including B1, B2, B6, and B12. These deficiencies can manifest in a range of symptoms including fatigue, depression, neurological disorders, and symptoms of cardiomyopathy. Patients presenting with any of the symptoms should receive a full spectrum micronutrient analysis.
3) A true gluten-free diet can be beneficial in reducing these symptoms and in the healing of gut disorders, but to do so must go beyond the traditional "gluten-free grains", which are wheat, rye, and barley. For more information on a gluten-free diet see Dr. Peter Osborne's book, No Grain, No Pain on glutenfreesociety.org
For further assistance please see our website TheGutAuthority.com.